PRESS RELEASE
FINAL FANTASY XV WINS E3 2016 GAME CRITICS AWARDS 'BEST RPG'
LOS ANGELES (July 7, 2016) – FINAL FANTASY® XV captivated Electronic Entertainment Expo (E3) attendees, winning over 20 awards and nominations from the US and Latin American media publications. Additionally, Game Critics also announced that FINAL FANTASY XV has won the E3 2016 Best Role Playing Game category. This was based on the results of votes placed from 40 global media outlets.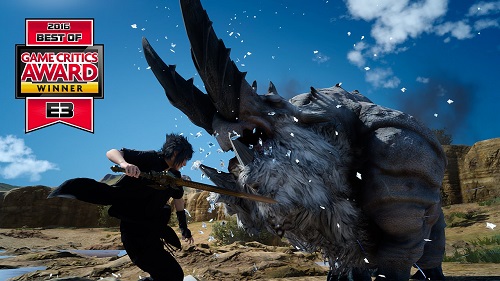 The full results can be found here:http://www.gamecriticsawards.com/winners.html .
Related Links:
Homepage: http://www.finalfantasyxv.com/
Facebook: http://www.facebook.com/FFXV
Instagram: @FFXV
Twitter:  @FFXVEN
YouTube: http://www.youtube.com/FinalFantasyXV
About FINAL FANTASY XV:
FINAL FANTASY XV is the highly anticipated action roleplaying game (RPG) and 15th mainline entry in the iconic FINAL FANTASY franchise. Set in an enthralling world where fantasy meets reality, players will join Crown Prince Noctis and his comrades on an epic journey of brotherhood, love and despair as they unravel Noctis's destiny and take up arms against the warmongering empire, Niflheim. With a captivating cast of characters, breathtaking visuals, open world exploration and action-packed real time combat, FINAL FANTASY XV is the ultimate FINAL FANTASY experience for fans and newcomers to the series.
FINAL FANTASY XV will be available September 30th, 2016 for Xbox One and the PlayStation®4 computer entertainment system. This game is not yet rated. Please visit the Entertainment Software Rating Board (ESRB) website at  www.esrb.org  for more information about ratings.
About Square Enix, Inc.
Square Enix, Inc. develops, publishes, distributes and licenses SQUARE ENIX®, EIDOS® and TAITO® branded entertainment content throughout the Americas as part of the Square Enix group of companies. Square Enix, Inc. is affiliated with a global network of leading development studios such as IO Interactive™, Crystal Dynamics®, and Eidos Montréal. The Square Enix group of companies boasts a valuable portfolio of intellectual property including: FINAL FANTASY®, which has sold over 115 million units worldwide; DRAGON QUEST®, which has sold over 68 million units worldwide; TOMB RAIDER®, which has sold over 45 million units worldwide; and the legendary SPACE INVADERS®. Square Enix, Inc. is a U.S.-based, wholly-owned subsidiary of Square Enix Holdings Co., Ltd.